I'm all about all natural and if I can make it myself… wow, am I in heaven! I'm super excited to try this all natural eyelash growth that I found on Pinterest. There are quite a few different serum concoctions online, but I believe I have found the best of all of them. So I have posted the ingredients list and directions below for you.
Items You Will Need:
1 tbsp. Castor Oil
1/2 tbsp. Almond Oil
1/2 tsp. Sweet Almond Oil
1/2 tsp. Vitamin E Oil
Aloe Vera (optional)
Empty bottle to put your serum in
Clean Mascara Wand (should be able to get these at any store that sells makeup)
Step 1:
You can either premix all your oils together, or place fill them directly in the bottle – whichever you prefer. Once the items are together, mix well and fill your bottle.
Step 2:
Apply your little concoction at night before you go to bed and after you have taken off any makeup that you may have had on during the day.
*Warning… apply just a light layer to your lashes. Remember this is oil. To much will have it running in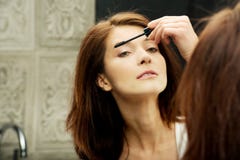 your eyes! Not only does that hurt but it is really hard to get out*
If by chance you do get some in your eyes, the best thing to do is get a clean dry towel, wipe from the inside of your eye out toward your cheek. Keep doing this on varies clean places of the towel until you get all the oil out of your eye. (mine are watering, just recalling this.)
Video Tutorial
Here is a very well done video from Ela Gale, she is going to walk you through this whole process. thanks Ela!

It takes about a week to really see results, but you are welcome to continue using after that. So how did it work for you? Let us know in the comments below.